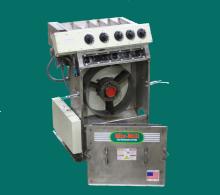 Our new Stainless Steel Sentry 3000 Hammer Mill.
The Sentry 3000 Feed Processing Hammermill lets you accurately proportion, grind and blend up to 5 different ingredients simultaneously. Ingredient inflow is provided by five seperate augers which permit grinding and mixing feed. The mill is equipped with a wall-mounted, dust-tight, electric control panel for safety and reliability. Its circuitry permits the mill to be safely and easily started, monitored, and shutdown. Product side discharge is through your choice of either 3 1/2" or 6" augers to meet specific output capacity requirements.
Standard Features:
Rugged 18" Full Circle Grinding Chamber
Heavy Duty Wear Plates (front & rear)
360 " Degree 3/16" Screen (other sizes from 1/16" " 3/4" are available)
15 Case Hardened, Beveled Hammers
Five Individual Inlet Augers fitted with Magnetic Guards
Accurate Positive Gear Drive Five Compartment Proportioner
Door Interlock Safety Switch
Housing with Side Discharge
Base Auger Motor and Belt Guard
Capacities:
Corn    7,000lbs/hr   (3175 Kg/hr)
Wheat  8,000lbs/hr   (3900 Kg/hr)
Based on 3/16" screen and 10 HP motor. Capacities will vary with the type and nature of the ingredient as well as the mill HP and screen opening size.
Options:
Mill Motor
Electric Control Panel
3 1/2" or 6" Auger Discharge Package