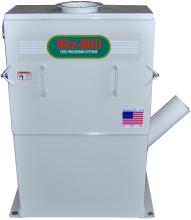 The Sentry 145 Feed Processing Hammermill is designed to discharge at a 45 degree angle with your choice of either 4" or 6" augers to meet specific output capacity requirements. Product inflow is through either a 6" or 4" single top inlet, which can be fitted with an optional slide gate and various hoppers. Magnets are mounted on the intake to remove ferrous material contaminants.
Standard Features:
Rugged 18" Full Circle Grinding Chamber
Heavy Duty Wear Plates (front & rear)
360 " Degree 3/16" Screen (other sizes from 1/16" " _" are available)
15 Case Hardened, Beveled Hammers
6" Diameter Top Inlet
Door Interlock Safety Switch
Housing with 45 Degree Angle Side Discharge
Capacities:
Corn    7,000lbs/hr   (3175 Kg/hr)
Wheat  8,000lbs/hr   (3900 Kg/hr)
Based on 3/16" screen and 10 HP motor. Capacities will vary with the type and nature of the ingredient as well as the mill HP and screen opening size.
Options:
Mill Motor
4" or 6"  Diameter Top Inlet
4" or 6"  Inlet Slide Gate
4" or 6"  Auger Discharge Package