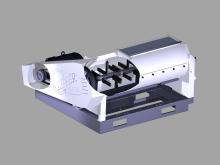 The Clipper Debearder Pro is a multi-purpose machine available with optional variable speed controls to handle a wide variety of jobs with ease. Originally designed to debeard barley, it has become one of the most versatile machines in the entire Clipper line.
Standard Features:
Two Bottom Cleanout Doors
Top Access Door
Adjusting Motor Base & Guard
Heavy Duty Machined Stress Proof Shaft and Bearings
Offset Feed Inlet For Proper Rotation
Heat Treated Beater Arms (Increased By 50% On Depth) & Fixed Shaft Rotation
Weighted Discharge Gate to Vary Product Conditioning
7 Gauge Drum For Increased Life
Heavy Duty Base With Forklift Slots.
Capacities:
Options:
Various Motor Drive Packages of 50 or 60 Hertz, Single or Three Phase, TEFC or Ex-Proof
Electronic Variable Speed with Inverter Duty Motor.
Optional Round Heat Treated Hammer for Outside Housing for Gentle Malt Processing