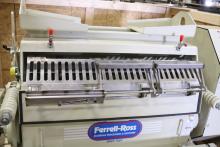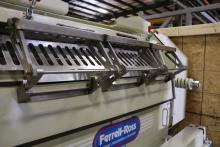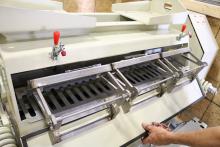 Ferrell-Ross offers magnet assemblies as an option on all its industrial roller mills.  This magnet is designed to capture ferrous tramp metal contaminants from the product stream before passing through the rolls.  This assembly then allows easy cleaning of the magnets simply by opening the feeder door.
Magnet assemblies are available as a factory-installed option when ordering a new mill.  Retrofit kits are also available to add assemblies to existing machines.    
See the video available on our You Tube link area of our website.
Standard Features:
Easy to Clean Outside of the Product Flow
Permanent Magnets Last Forever
Samarium Cobalt Rare-Earth Magnets
Will Not Shut Down During Power Loss
Stainless Steel, All-Welded, Rugged Constructed Assembly
Adjustable Positioning to Product Stream
High Capture and Hold Magnetic Surfaces
Pre-Engineered for Fast Field Installation
Feeder Door with Aspiration Ports
OSHA Style Operator Guarding
Little or No Maintenance, Except for Periodic Cleaning
 
Available Sizes & Models: 
All 10 & 12 Inch Industrial Mill Models