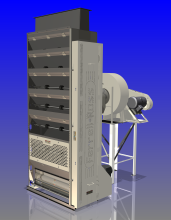 The RC Flake and Pellet Coolers are designed for continuous flow cooling with eccentric driven baffles that prevent product bridging. A level sensor at the top of the cooler inlet activates the baffle and rotary discharge drive. Ferrell-Ross RC Coolers feature rotary vane product discharge with variable speed drive to precisely adjust material flow rate. 
Air flow is created by the blower and regulated via the by-pass valve to fine tune c.f.m. Inspection and clean out doors are included in the fan hood assembly. The RC Series Coolers are available with mild steel or 304 stainless steel housings.
4450 CFM maximum air output.
Standard Features: 
Mild Steel Housing
  Mild Eccentric Shafts and Baffles
  Mild Steel Hood with Inspection Door
  Stainless Steel Rotary Discharge
  Variable Speed Baffle and Discharge Drive
  Enclosed Mild Steel Drive Guard
  Bindicator Level Indicator
  Exhaust Fan
  Air Valve Adjustment Lever
  Fan Motor and Drive Package with Enclosed Guard