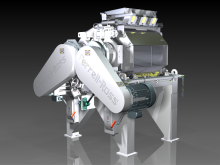 Ferrell-Ross Cereal Mills now include many improved features that compliment the strengths of their proven design.
New standard features include:
More Power - Dual 60 HP drives provide ample power for even the most demanding cereal flaking applications.
More Accuracy - Improved roll scraper (mill knife) location and adjustment allow for fine tuning of the blade angle and point of roll contact.
More Access - Re-designed roll guards meet safety guidelines while allowing access to roll scraper adjustments and knife warping bolts.
More Quality - The rugged mill frame and bearing housing mounting surfaces are machined after fabrication for improved roll alignment and roll gap precision.
Standard Features: 
Mild Steel Base with Epoxy White Paint
  Stainless Steel Mill Housing with Continuous Welds, Ground Smooth
  32" Diameter Peripherally Drilled Water Cooled Chilled Cast Iron Rolls
  Two Rotary Unions for Connection to Chilled Water Source
  SKF Explorer Double-Row, Self-Aligning Spherical Roller Bearings
  Vibratory Feeder with Stainless Steel Pan and (3) Electromagnetic Drives
  Vibratory Feeder Control with (3) Individual Trimmers and (1) Main Rheostat
  Nylon Roll Saddles
  Redesigned Air Actuated Roll Scraper Assembly (Easily Adjustable)
  (2) Shaft Mounted Gear Reducers
  Fixator Positive Stop Roll Gap Adjustment
  Air-Over Hydraulic Pump with Electric and Manual Valves       
  Dual Motor Drive Components
  Enclosed Drive Guards