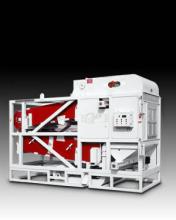 A six screen cleaner that utilizes six 86" length decks. Each screen deck uses 3-26" screen sections and a screen blank. A total of 175.5 Square feet of screen area. The New Generation 668-2-4 cleaner offers a top shoe assembly with a split-scalp or a scalp-scalpt or an optional scalp-sift flow and a bottom shoe assembly with a 4-way split-sift flow.
Standard Features:
4" square tubing frame that is 1/4" (6.35mm) thick.
Exclusive 1/2" throw on eccentric drive of cleaning shoes for smooth seed flow and maximum seed separation.
Reverse incline back fan unit to develope up to 8400 CFM @ 5" SP on standard 10 Hp drive and up to 11,000 CFM @ 5" SP with optional 15 Hp drive. Drive setup can easily be changed to match air and electrical requirements.
Electronic variable speed vibratory inlet feed hopper with adjustable internal gate for uniform seed flow thru air column and onto screens.
New style heavy duty screen cleaning ball trays so that screens can be changed without removing ball trays.
2 calibrated air gate controls that work in combination with back adjustable doors for precise air separation settings.
Replaceable metal screenways and rubber screen seals for ease of future repair.
New style shoe hangers and drive connectors for smooth counterbalanced operation.
Air lock discharge trash augers with bottom access door for ease of cleanout.
Capacities:
Capacities range from 200 to 900 BPH (5.4-24.4MTH) for precision cleaning and up to 1800 BPH (49MTH) of market cleaning
Options:
Over 150 different standard screen sizes available with additional screen sizes available upon request.
Bottom blast fan for specialized air separation requirements.
Grease line package to grease machine from central location.
Various motor drive packages of 50 or 60 Hertz, Single or Three phase, TEFC or Ex-Proof.
Side mounted control panel to control electronic variable speeds from one location.
15 Hp back fan drive package for higher capacity requirements.
Optional Scalp-sift top shoe. Optional Split-scalp variavle pitch top shoe.
Calibrated hopper gate control extended down to side of machine.
Clean seed conveyors from 5 to 15 feet to convey seed away from cleaner.