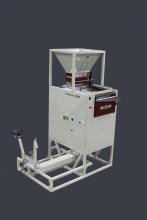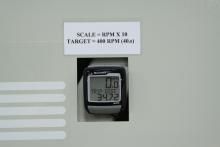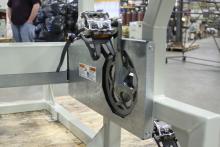 The Clipper Eclipse Pacer 224 is designed to combine the new technology of today's modern seed equipment with the requirements of the developing countries where electricity has not yet been provided. The Eclipse Pacer is built with the same care and craftsmanship as Clipper's larger precision cleaners.
Standard Features:
heavy-duty tubular steel frame
13-ply marine grade plywood shoe
scotch ply hangers
1-1/2" heavy-duty drive shaft
manual bicycle petal drive system
Same screen size (24-1/2" x 22-1/4") as older 2B and M2b models
Ball Tray Screen Cleaning
Adjustable Bottom Air - Bottom Cleanout Air Door
Capacities:
Soybeans, Wheat, Corn - *40 BPH (fast clean), *20 BPH (precision clean)
Rice, Oats - *20 BPH (fast clean), *15 BPH (precision clean)
*Note: capacities may vary depending on seed condition, moisture content, seed varieties, types, and volumes of contaminants to be separated and the percentage of foreign material acceptable in the final product.
Options:
Over 150 screen sizes to choose from
Electric 60 Hz and 50 Hz volt motor package for future updates
5 Bushel Surge Hopper
Screen Recommendations:
Suggestions Only. Size will vary from variety and crop conditions.
        14 = 14/64 Round Hole
        1/21 = 1/21" Round Hole
        1/13X1/2 = 1/13" Wide X 1/2" Long, Slot
        8/64X3/4" = Slot
                GRAINS & OILS
                TOP SCREEN
                BOTTOM     SCREENS
                Barley, plump
                9/64x3/4
                5/64x3/4
                Barley, thin
                8/64x3/4
                1/13x1/2
                Buckwheat
                14
                6/64x3/4
                Canola
                8
                1/19
                Corn, Field
                30
                14
                Cottonseed, acid-delinted
                18
                9/64x3/4
                Cottonseed, mechanically-delinted
                20
                9-1/2/64x3/4
                Flax, large
                1/13x1/2
                6
                Millet, Proso
                8
                1/16
                Millet, Siberian
                6
                1/15
                Milo, Maize
                12
                1/12x1/2
                Oats, large
                18
                1/14x1/2
                Popcorn
                19
                11
                Rice, unhulled, long grain
                14
                1/16x1/2
                Rye
                12
                1/16x1/2
                Safflower
                11/64x3/4
                6/64x3/4
                Sesame
                1/20x1/2
                6x24
                Sorghum
                10
                1/15
                Spelt  (Hulled)
                16
                5x3/4
                Spelt  (Unhulled)
                20
                6x3/4
                Sunflower, Black Oil
                19
                11
                Sunflower, Large Stripped
                28
                13
                Wheat, plump
                14
                5-1/2/64x3/4
                Wheat, thin
                12
                1/13x1/2
                Wheat, Durum
                16
                6/64x3/4
                SMALL LEGUME SEED
                TOP SCREEN
                BOTTOM     SCREENS
                Alfalfa
                1/14
                6x24
                Clover, Crimson
                1/13
                6x22
                BEANS & PEAS
                TOP SCREEN
                BOTTOM     SCREENS
                Cranberry Beans
                30
                16/64x3/4
                Great Northern Beans
                24
                11/64x3/4
                Kidney Red Beans
                28
                14/64x3/4
                Lima, Baby Beans
                30
                19
                Lima, Large Beans
                48
                26
                Pinto Beans
                24
                10/64x3/4
                Black Turtle
                20
                9x3/4
                Austrian Winter Peas
                17
                10/64x3/4
                Black-eyed Peas
                24
                11/64x3/4
                Canada Field Peas
                18
                9/64x3/4
                Chick Peas, Garbanzos
                26
                12/64x3/4
                Soybeans, Small 2800 to 3200 Seeds Per Pound
                18
                10/64x3/4
                Soybeans, Medium 2500 to 2800 Seeds Per Pound
                20
                11/64x3/4
                Soybeans, Large 2200 to 2500 Seeds Per Pound
                24
                12/64X3/4
                Lentils
                7/64x3/4
                11
                TREE SEED
                TOP SCREEN
                BOTTOM     SCREENS
                Birch Black
                14
                6
                Cedar Red
                1/18X1/4
                6
                Fir, Douglas
                15
                1/15x1/2
                Juniper
                22
                8 x 3/4
                Locust, Honey
                20
                12
                Locust, Black
                10
                6
                Pine, Norway
                9
                1/13
                Spruce, Black
                1/13
                6x24
                VEGETABLE & FRUIT
                TOP SCREEN
                BOTTOM     SCREENS
                Asparagus
                12
                9
                Beet, California
                20
                8
                Broccoli
                7
                20X20
                Cabbage
                7
                1/17
                Celery
                1/17
                30x30
                Cucumber
                17
                9
                Carrot
                6
                6x28
                Muskmelon
                16
                9
                Onion
                9
                1/15
                Pepper
                17
                6x3/4
                Radish
                9
                1/14
                Spinach
                8
                1/15
                Squash
                34
                22
                Watermelon
                24
                16
                SPICE SEED
                TOP SCREEN
                BOTTOM     SCREENS
                Basil
                6R
                6x24
                Cumin
                10
                6x28
                Mustard, Dark
                1/15
                6x22
                Pepper, Whole Black
                17
                6/64x3/4
                FLOWER SEED
                TOP SCREEN
                BOTTOM     SCREENS
                Aster
                8
                6x28
                Black-eyed Susan
                18x18
                6x36
                Calendula
                12
                6
                Daisy
                1/18X1/4
                6x26
                Marigold
                1/15x1/2
                6x34
                Petunia
                1/24
                50X50
                SPECIALTY CROPS
                TOP SCREEN
                BOTTOM     SCREENS
                Tobacco Seed
                26x26
                60x60
, ,