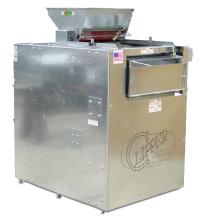 The Clipper AGM 224 is a small cleaner designed to meet the low maintenance and easy cleanout requirements of today's seedsman. The 224 shoe has been designed with two 24-1/2" x 22-1/4" screens. One screen for the top and the other for lower separation. Over 150 different sizes of perforated metal or wire cloth screens are available. The commodity is fed into the hopper and the adjustable gate helps to spread product evenly across the full width of the top screen. The product then moves across the top screen, which has openings larger than the product itself. The large foreign material is "scalped" off while the good product falls through the screen. The bottom screen is set up for sifting. The bottom screen openings must be smaller than the commodity being cleaned. Trash, weed seeds and splits drop through the bottom screen while the good product passes over it. Next, the product is routed through a column of air from the bottom blast fan. This blast of air effectively removes any lightweight trash and dust that may have remained after screening. Good clean product is discharged at the bottom of the air chamber.
Standard Features:
Inlet Feed Hopper
        Heavy Duty Eccentric Shaft And Drive
        Scotch-Ply Shoe Hangers
        2 Screens 24-1/2" x 22-1/4" Flows included: scalp, sift
        Ball Tray Screen Cleaning
        Adjustable Bottom Air - Bottom Cleanout Air Door
        1 Hp, 60 Hz, 1800 RPM, TEFC, 1 Phase 115/230 Volt Motor And Drive
Capacities:
Soybeans, Wheat, Corn = *50 BPH (fast clean), *30 BPH (precision clean)
Rice, Oats = *40 BPH (fast clean), *25 BPH  (precision clean)
*Note: capacities may vary depending on seed condition, moisture content, seed varieties, types, and volumes of contaminants to be separated and the percentage of foreign material acceptable in the final product.
Options:
50 Hz 220 Volt Motor Package
Inlet Surge Hopper
Clean Seed Discharge Auger with 2 Way Bagger and Drive
24" stand available to elevate cleaner if needed.
Dust Control Box
Screen Recommendations:
Suggestions Only. Size will vary from variety and crop conditions.
14 = 14/64 Round Hole
1/21 = 1/21" Round Hole
1/13X1/2 = 1/13" Wide X 1/2" Long, Slot
8/64X3/4" = Slot
GRAINS & OILS
TOP SCREEN
BOTTOM SCREEN
Barley, plump
9/64x3/4
5/64x3/4
Barley, thin
8/64x3/4
1/13x1/2
Buckwheat
14
6/64x3/4
Canola
8
1/19
Corn, Field
30
14
Cottonseed, acid delinted
18
9/64x3/4
Cottonseed, mechanically delinted
20
9-1/2/64x3/4
Flax, large
1/13x1/2
6
Millet, Proso
8
1/16
Millet, Siberian
6
1/15
Milo, Maize
12
1/12x1/2
Oats, large
18
1/14x1/2
Popcorn
19
11
Rice, unhulled, long grain
14
1/16x1/2
Rye
12
1/16x1/2
Safflower
11/64x3/4
6/64x3/4
Sesame
1/20x1/2
6x24
Sorghum
10
1/15
Spelt  (Hulled)
16
5x3/4
Spelt  (Unhulled)
20
6x3/4
Sunflower, Black Oil
20
11
Sunflower, Large Stripped
28
13
Wheat, plump
14
5-1/2/64x3/4
Wheat, thin
12
1/13x1/2
Wheat, Durum
16
6/64x3/4
SMALL LEGUME SEED
TOP SCREEN
BOTTOM SCREEN
Alfalfa
1/14
6x24
Clover, Crimson
1/13
6x22
BEANS & PEAS
TOP SCREEN
BOTTOM SCREEN
Cranberry Beans
30
16/64x3/4
Great Northern Beans
24
11/64x3/4
Kidney Red Beans
28
14/64x3/4
Lima, Baby Beans
30
19
Lima, Large Beans
48
26
Pinto Beans
24
10/64x3/4
Black Turtle
20
9/64x3/4
Austrian Winter Peas
17
10/64x3/4
Black-eyed Peas
24
11/64x3/4
Canada Field Peas
18
9/64x3/4
Chick Peas, Garbanzos
26
12/64x3/4
Soybeans, Small 2800-3200 Seeds Per Pound
18
10/64x3/4
Soybeans, Medium 2500-2800 Seeds Per Pound
20
11/64x3/4
Soybeans, Large 2200-2500 Seeds Per Pound
24
12/64X3/4
Lentils
7/64x3/4
11
TREE SEED
TOP SCREEN
BOTTOM SCREEN
Birch Black
14
6
Cedar Red
1/18X1/4
6
Fir, Douglas
15
1/15x1/2
Juniper
22
8/64x3/4
Locust, Honey
20
12
Locust, Black
10
6
Pine, Norway
9
1/13
Spruce, Black
1/13
6x24
VEGETABLE & FRUIT
TOP SCREEN
BOTTOM SCREEN
Asparagus
12
9
Beet, California
20
8
Broccoli
7
20X20
Cabbage
7
1/17
Celery
1/17
30x30
Cucumber
17
9
Carrot
6
6x28
Muskmelon
16
9
Onion
9
1/15
Pepper
17
6/64x3/4
Radish
9
1/14
Spinach
8
1/15
Squash
34
22
Watermelon
24
16
SPICE SEED
TOP SCREEN
BOTTOM SCREEN
Basil
6R
6x24
Cumin
10
6x28
Mustard, Dark
1/15
6x22
Pepper, Whole Black
17
6/64x3/4
FLOWER SEED
TOP SCREEN
BOTTOM SCREEN
Aster
8
6x28
Black-eyed Susan
18x18
6x36
Calendula
12
6
Daisy
1/18X1/4
6x26
Marigold
1/15x1/2
6x34
Petunia
1/24
50X50
SPECIALTY CROPS
TOP SCREEN
BOTTOM SCREEN
Tobacco Seed
26x26
60x60